Ganei Beantown is using their Gendler Grapevine Project grant to develop and implement a new workshop track focused on youth and families at their Boston Jewish Food Conference.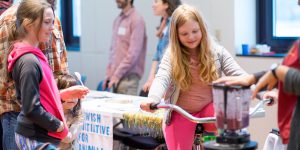 The annual Boston Jewish Food Conference (BJFC) brings together community members to learn about Jewish agriculture, labor issues, health, food access, kashrut, and local food history. The fun day of learning and community building includes workshops, a meal, a shuk (marketplace), and DIY activities.
2018 Boston Jewish Food Conference: Living Off the Land
Sunday, June 10, 2018, 12:00 pm – 7:00 pm
Temple Israel, 477 Longwood Ave. MA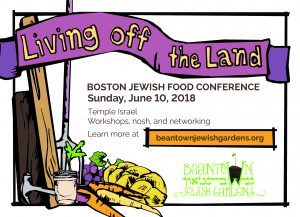 Below is Ganei Beantown's description of the event.
As Jews, we have historical roots in the land and a contemporary reputation as "people of the book." How do we reconcile that? From agricultural best-practices to holiday celebrations and family stories, our ties to place and culture bind us together.
It's our duty to be mindful not only of the quality of the food we put in our bodies but also the overall health of our communities. What can we learn from the cycles of the seasons, the harvests and our historical traditions to nurture our bodies, spirits, and communities?
Join us at the 2018 Boston Jewish Food Conference where we grow our relationship with the land, and with each other. *Jewish dietary laws observed.*