We recently shared the transcript of Dr. Martin Luther King, Jr.'s last interview, which was conducted by Rabbi Gendler 50 years ago last month. While reading the transcript, one can't help but notice how relevant many of the concerns raised 50 years ago still are today. One of our 2016 grantees, Temple Sinai DC, worked to address the issue of racial justice and draw attention to Jewish and African American togetherness. They received a L'dor V'dor Gendler Grapevine Project grant to organize a series of discussions in Washington, DC, and to take a trek to the south to learn more about the Civil Rights Movement.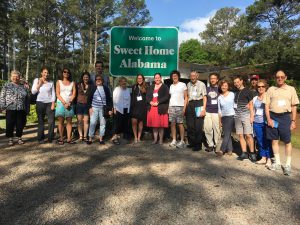 The local events they planned were extremely successful and well-attended. They held a racial justice discussion group during Yom Kippur afternoon that focused on conversations about race and white privilege. This conversation was moderated by Operation Understanding DC, a local organization that brings Jewish Americans and African Americans together to work to eradicate racism, anti-semitism, and all forms of discrimination. Many of Temple Sinai DC's member teens took a leadership role in this discussion. In addition, they organized a group visit and tour of the African American Museum of History and Culture. Over Martin Luther King Jr. weekend (January 2017), they hosted the Afro-Semitic Experience, a jazz ensemble that melds the Jewish and African musical traditions.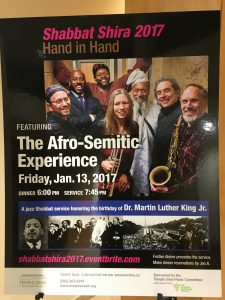 In March 2017, the trek participants travelled to the American South. They began in Montgomery, with a visit to the Rosa Parks Museum, a museum that brings to life the story of the Montgomery bus boycott. They also visited the Southern Poverty Law Center (SPLC), tracing the history of hate crimes and the SPLC's ongoing work to combat hate in America. They continued on to Selma, where they walked the Edmund Pettus Bridge and learned about the ongoing struggles of this community from Joanne Bland, a long-time resident who marched on the bridge on March 7, 1965 (known as "Bloody Sunday") and has since dedicated her life to the pursuit of civil rights. They then went to Birmingham, where they visited the 16th Street Baptist Church and the Birmingham Civil Rights Institute. Their trip concluded in Atlanta, where they joined the congregation at Ebenezer Baptist Church for their Sunday service.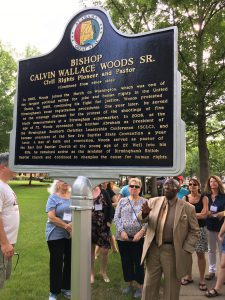 Since returning, the Temple Sinai DC community has continued to have discussions about racial justice. Their plan is to offer the Civil Rights Trek again in 2019.