Jewish Farm School's initiative, Shorashim: Rooted in Justice, is a teen-focused series of workshops that uses food as a lens through which to explore a rich range of topics, including sustainability, worker's rights, social justice, and Jewish traditions. Their project hit the ground running this fall. They are currently in the middle of the series with their first partner, Lower Merion Area Hebrew High (LMAHH), a new combined Hebrew high school with students from four area synagogues.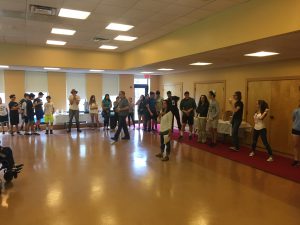 On October 8, Jewish Farm School led a school-wide assembly-style program with an introductory activity to get the students thinking about their understandings of food, hunger, poverty, and Judaism. They had everyone standing (about 65 students) in a circle and read a series of statements. If the participants agreed with the statement, they stepped forward, if not they stood still. Some of the statements were, "There is enough food in the world to feed everyone," "I would give away some of my own food or wealth to ensure that others did not go hungry," and "Judaism is an agricultural tradition." Participants then split into three breakout sessions, and students rotated through each one. The first session was a "Theater of the Oppressed" style movement activity through which they explored different aspects of the food system. The second session was led by a Jewish farmer who brought in produce from his farm and guided students on an eating meditation and then discussed the importance of blessings and gratitude. Jewish Farm School Executive Director, Nati Passow, led the final session, which included a viewing of a short movie they made a few years ago with people reciting Tefilat HaGeshem, the prayer for rain that is recited on Sukkot. They then spoke more about how Sukkot is connected to rain, discussed how water and rain can be both a blessing and a curse, and each student wrote their own prayer for rain.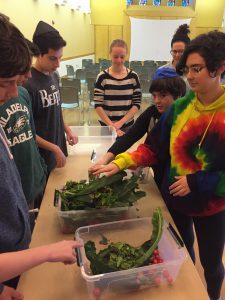 Jewish Farm School will go back to the Hebrew school over the course of three Sundays to meet with students in the "And Justice for All" class. This 3-part series will allow them to delve deeper into some of the initial topics that were brought up in the first session. The basic outline for the three lessons are explained below.
Session 1: Food System mapping: where our food comes from and what are the social and environmental justice issues that can arise during our food's journey from farm to table
Session 2: Hunger, food access, and the Jewish agricultural tradition
Session 3: Fermentation and the Miracle of the Ordinary: A hands-on pickling workshop that weaves in the spiritual lessons of fermentation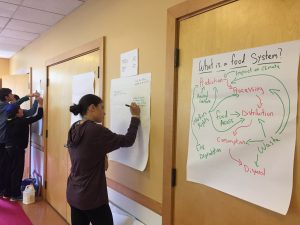 Jewish Farm School has been in touch with several other Hebrew schools and will be setting up similar programs at one to two more institutions. They are also networking with teachers and school administrators to let them know about the training component that will be offered in the Philadelphia area in the spring, so that schools can integrate these lessons into their classes on their own.