The Isabella Freedman Jewish Retreat Center used their Gendler Grapevine Project grant to create the Cycles of Seven Garden in the middle of their 400-acre campus in the Berkshires. The seven raised beds, made of cedar reclaimed from an old water tower, connect guests to Judaism and growing food. Every element in the garden teaches key Jewish ecological concepts from Shabbat and shmita to blessings and the origins of the words "Adam" and "Adamah."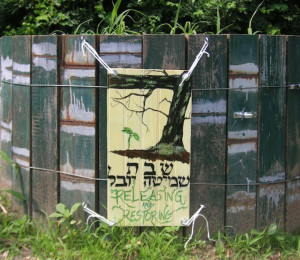 The beds include a worm bin, a shmita bed planted in cover crop, a polyculture perennial border with blueberries and medicinal plants, and a table for sharing and blessing the harvest. Artistic signs on each bed and a poster on a kiosk explain concepts such as blessings, Shabbat, and composting as well as the way that soil and nutrients cycle through stages from compost to seed to harvest.
Visitors engage in each bed by spreading compost, seeding, weeding, harvesting, blessing, and eating, among other activities. Senior campers, families, and students have visited, worked and learned in the garden since its completion.
For a step-by-step guide on how you can create this project at your camp or organization, click here.