Camp Solomon Schechter applied for a Gendler Grapevine Project grant with the goal of expanding its Teva Learning Center (TLC) activities by providing a solid, sustainable, organic agricultural curriculum. Camp Solomon Schechter completed this project by securing support from four different funding sources (including the Gendler Grapevine Project).
The TLC includes an organic, sustainable garden located in a 2,000 square foot garden area, which contains at least 24 growing beds, an area for fruit trees and berry bushes, a small green house, a tool shed, and a compost bin.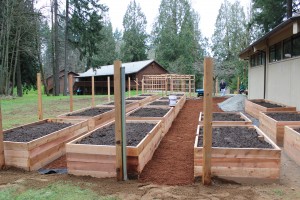 The TLC was a huge hit. The campers, staff and volunteers were introduced to the TLC soon after they arrived at camp. Seeing the lush and vibrant garden was enough to get them excited and talking about the program. The organic gardening chuggim (activities) were very popular. Campers helped tend the garden, release ladybugs, install an Israeli drip irrigation system, and cook food from the garden to share at meals.
All of this happened in conjunction with the curriculum that was developed by the Environmental Educator, who did a great job of incorporating the Torah values into each and every lesson plan. In fact, the garden became a popular location for running Peulat Sababa/Limmud (Jewish education) sessions, where they talked about creation, ba'al taschit (do not destroy) and tikkun olam (repairing the world).
They posted a video of the campers releasing the ladybugs.
To learn more about the project and read a step-by-step guide on how you can replicate it, click here.