In For Of, Inc. (IFO), a nonprofit organization created by Beth Am Synagogue in Baltimore, Maryland, strives to build relationships between members of the synagogue and the residents of Reservoir Hill, the urban neighborhood where the synagogue has stood since 1921. IFO was awarded a Gendler Grapevine Project grant to develop a "coming-of-age" education initiative aimed at elementary school-age children, both Jewish and African American. The multi-faith and multicultural program will explore teachings from both Jewish and African American traditions about the elements of a righteous life, with the goal of supporting its children in defining and realizing personal and academic development goals.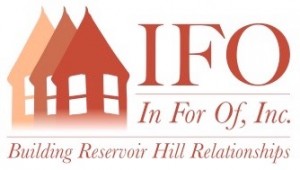 Funding for development of this program could not have come at a more critical time. Baltimore is still dealing with the aftermath of street violence this past spring following the death of Freddie Gray. Reservoir Hill is less than a mile away from where the riots began, but it is a calm and quiet inner city neighborhood that is 88% African American and 8.5% caucasian. The coming-of-age program will constitute an important effort to strengthen community ties between Beth Am members and its Reservoir Hill neighbors and to provide enriching educational and experiential opportunities for its youth.
More specifically, this project aims to address the following issues.
*     Increase connections among young people of different backgrounds
*     Convey the history and meaning of African American and Jewish coming-of-age rituals
*     Explore the meaning of citizenship in a multicultural democracy
*     Engage participants in articulating life goals by exploring Jewish and African American traditions about the elements of a righteous life
*     Develop skills in self-determination and making responsible choices
Beth Am received funds to engage a program development consultant with education or youth development experience. To date, a Task Force of Reservoir Hill organization representatives, Reservoir Hill residents, and Beth Am clergy and members has been formed and will hold its first meeting on February 9, 2016. A program review has been conducted to identify programs throughout the country with components or experiences worth emulating. (Based on that review, it appears that while other programs work with Jewish and African Americans in high school and college, this program will be the first to focus on Jewish and African American pre-teens.) During the next nine months, the Task Force will provide oversight and guidance to the program developers. The program is tentatively scheduled to commence in the spring of 2017.