Yeshivat Chovevei Torah Rabbinical School's (YCT) Gendler Grapevine Project initiative will develop and implement a fellowship to train rabbinical students in shechita, or the skill of performing kosher slaughter. YCT views shechita as a radical way to reconnect with the sources of food in a modern world where the average person has little knowledge of how their food is produced.
Over the years, many students at YCT have expressed interest in the process of learning shechita and this initiative will enable them to devote the time and energy necessary to learn it.
When one of the students reflected that, "in a world where global food traditions are being erased, I am so glad that we can keep alive this Jewish food tradition," the school realized what a powerful tool shechita could be for fostering individual connections to Judaism.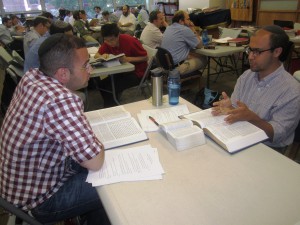 The goals of this Gendler Grapevine Project initiative are to train students in shechita, create a cohort of shochetim able to both slaughter and to educate about slaughter, create more options for sustainable kosher meat in communities, and prepare rabbinical students to inspire their communities through the intersection of Judaism and food using shechita as a tool.
The project will support the training of six shochetim. These students, in addition to their regular training as rabbis, will learn the skill of kosher slaughter. They will enroll in Rabbi Chaim Loike's shechita class at Yeshiva University and begin their group learning. After ordination, they will take this skill – as well as the radical environmental connection it brings – with them as a tool to their local communities.
YCT rabbinical student Jacob Siegel will be offering an educational demonstration of shechita at Colgate University in the fall of 2014 for a seminar course focusing on food in America and at the Martha's Vineyard Hebrew Center. This demonstration embodies the goals of the initiative – to train deeply learned and sensitive educators to draw connections between the Jewish tradition of shechita and the work of communities hoping to reconnect with the food they eat.