Shir Tikvah, located in Minneapolis, MN, has a big goal: to create a beautiful, sustainable landscape around their synagogue replete with rain gardens, a vegetable garden, a native plants garden, beehives, a walking trail with benches at strategic spots, and an orchard.
Phase I of their Gendler Grapevine Project initiative has included the installation of four rain gardens. They worked with the company Field Outdoor Spaces and dug rain gardens, removed sod, laid pipe, and purchased over 300 plants. On Sunday, October 11th, Shir Tikvah hosted a work day and celebration. Twenty-seven volunteers from the synagogue, four staff from Field Outdoor Spaces, and two Water Stewards spent the day planting and mulching the rain gardens.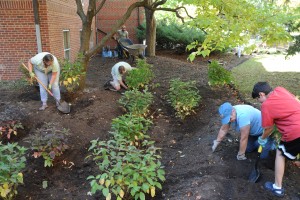 One highlight of the day was the morning celebration with the religious school teachers, children, and parents. Religious school was adjourned 15 minutes early and everyone convened outside next to one of the rain gardens. Blessed with blue skies and 80 degree weather, the children sat on the ground while music leader/cantor Wendy Goldberg led them in songs, Rabbi Debra Rappaport gave a blessing, Religious School Director Forrest Yesnes said a few words, and Zoe Nicholie spoke briefly about the overall goals the Gan Tikvah.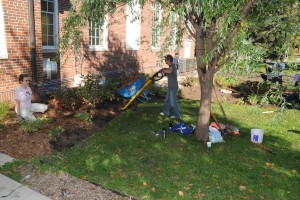 The organizers enjoyed having the children involved in the creation of the rain gardens. They discussed many topics, including the concepts of sustainability, habitat, and pollinators. They also put their work into a larger social context, explaining how the rain gardens are going to help protect the waters of nearby Minnehaha Creek, which flows into the Mississippi River.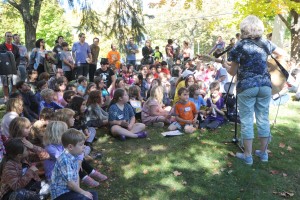 In Spring 2016, Shir Tikvah will begin Phase II of the project. Phase II will involve significantly expanding the vegetable garden and putting up a beautiful wooden fence around two big plots, with an archway between the two where they will do some vertical gardening. The beehives will go in, apple and perhaps cherry trees will be planted, and an expansive native plants garden will be planted at the front entrance of the synagogue. Trails will be made in and around the rain gardens and orchards, and congregants will have the opportunity to donate benches in blessed memory of their loved ones. Religious school teachers are excited about being able to take their classes outside and really 'commune with God and nature.' They are also talking about adding a prayer wall on one corner of the property. Perhaps Phase III will see a labyrinth built for more opportunities for contemplation.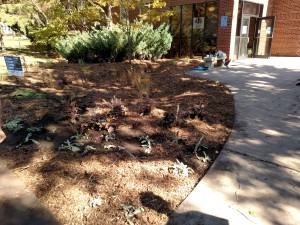 They plan to continue to involve synagogue members in plantings, ongoing gardening work, and making the links between protecting the environment, taking action on climate change, and incorporating Jewish values throughout this work. They have distributed over 100 flyers to neighbors informing them about the Gan Tikvah and the importance of protecting water and native habitats.
Shir Tikvah's Gan Tikvah is made possible with the support of the Gendler Grapevine Project and additional grants from the Minnehaha Creek Watershed District and Shir Tikvah's Caryl Barnett Vision Fund.