Marks Jewish Community House (JCH) is located in Brooklyn, NY, with a woodland campus on Staten Island. The Gendler Grapevine Project helped Marks JCH initiate environmental programming through their project "Green and Me." Through "Green and Me," over day and overnight campers were taught about the connection between Judaism and the environment via engaging activities and programs.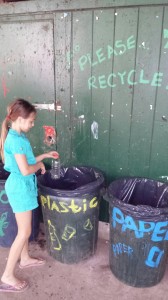 "Green and Me" focused primarily on reducing, reusing, and recycling by implementing a disposable water bottle-free summer, creating a recycling program at the Henry Kaufmann Campgrounds located on Staten Island, and challenging all specialists and administrative staff to become more creative in their use of materials.
The summer project was so successful that Marks JCH continued the green programming in their After School program.
To learn more about the project and read a step-by-step guide on how you can replicate it, click here.