Practical Proposal: Camp Coleman's Sustainability Shabbat
URJ Camp Coleman decided to translate their commitment to being environmentally conscious into a spiritual and meaningful experience that would have a lasting impact on not only their campers, but also their local community in Georgia. To achieve this, they devoted a Shabbat each session to look at what building a sustainable future means by creating a Sustainability Shabbat program. Camp Coleman used the values of Ba'al Taschit (do not destroy) and Dor L'Dor (from generation to generation) to frame the activities for the day.
Below is a guide explaining how they implemented the project, which was realized through various activities, such as helping prepare parts of the meals, listening to visiting speakers, going on field trips, participating in activities, and of course, eating the meal itself.
One Saturday morning, their 3rd/4th grade campers led a camp-wide Shabbat service sharing their connections with the environment and sustainability after having read Dr. Seuss's The Lorax in a previous program.
The entire camp participated in Mandatory Optionals activities created by the specialists for Sustainability Shabbat (the camp structure allows for free choice activities on Shabbat). Campers had a range of choices for activities, such as making recycled instruments with the song leaders; upcycling (taking waste and turning it into something useful) wallets, purses, bowties, and other accessories; making hamentaschen using fresh blackberry jam from Loganberry Farm in Jewish Cooking; bread-baking from scratch in their own oven in Campscape; and more.
A large part of the experience happened in between the morning and afternoon Mandatory Optionals programs with a delicious Shabbat lunch featuring locally grown food. During First Session, the meal was prefaced with a presentation from some of the 9th and 10th grade campers who visited and ate at Loganberry Farm, an organic farm just a few miles away from Coleman. They shared the steps the farm takes to ensure they grow quality food, what it was like to eat a meal right where it had been grown, and what they learned from the farm about the nutritious value of eating fresh food (and how great it tasted!). The meal consisted of pasta with garlic scape pesto sauce made fresh with ingredients from their neighbors at Loganberry Farm, squash and zucchini grown in Georgia, bread rolls from the Country Bake Shoppe (a local family-owned and operated bakery near Camp Coleman), and strawberry jelly homemade by the cook. The campers absolutely loved the meal, and to know that the food came fresh from their neighbors elevated the mindfulness of eating and enjoying the food. They even wanted to know what was coming from the farm for dinner!
During Second Session, in addition to the above-mentioned activities, Camp Coleman was also able to bring in a respected camp alumnus who bakes bread and sells it at local farmers markets in Miami. He shared with some of the Kesher and Chalutzim (9th and 10th grade) campers what sustainability means to him, why he devotes his life to his business of baking delicious bread from scratch to share with others, and how they can be more sustainable in their lives. Campers learned how to make bread naturally using quality ingredients and were exposed to someone close to them who is passionate about sustainability.
The stage was set for Sustainability Shabbat on Friday evening with the Director's Shabbat story, and the intention behind each activity was explained to the entire camp.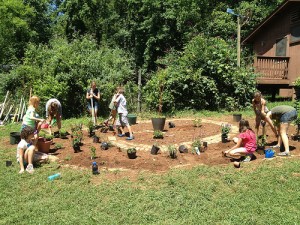 Keys to the Camp's success included securing local farms and bakeries to partner with early in the project as well as creating a menu. Camp Coleman feeds over 600 campers, staff, and faculty at each meal, so they had to select food that a farm could produce enough of to feed everyone. In addition, finding the right time in the program for the activities is necessary. At Camp Coleman, the Mandatory Optionals and t'filah structures lent themselves well to the program. The Camp also suggests finding staff members who are passionate about sustainability to lead the project and adapt it to meet the camp's schedule.