Practical Proposal: T.I.R.E. (Tire Inflation for the Retrieval of Energy) Project at Eden Village Camp
Have you checked the pressure of your car's tires recently? That's just what Eden Village Camp is doing for the plethora of parents picking up or dropping off their children. Using an analog tire pressure gauge and an air compressor attached to a solar generator, Eden Village Camp is implementing their project, aptly named T.I.R.E. (Tire Inflation for the Retrieval of Energy).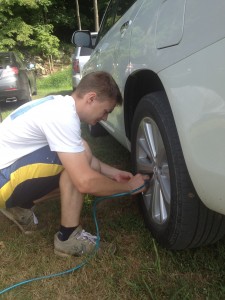 It's simple: when automobile tires are not properly inflated, fuel efficiency suffers. According to the U.S. Department of Energy website, mileage will increase "up to 3.3 percent" with properly inflated tires. By simply inflating tires regularly, we can decrease our fuel consumption and reduce air pollution. With the number of cars on the road today, the marginal gains in fuel economy made by properly inflated tires can add up to a significant reduction in total fuel consumption. Eden Village Camp's T.I.R.E. project is a viable means to that end.
Given the green light by car owners, staff members at Eden Village Camp inflate the tires of parked cars on pick up/drop off days, large event days, and long retreat weekends. Along with their permission, car owners give the staff their car's ideal tire pressure before arriving to make for a speedier process. If the parent was not informed of the project beforehand, they can also opt in on-site.
– On pick up/drop off days, when parents are quickly in and out of camp, three to four people will staff the project, ensuring that it proceeds smoothly and efficiently.
– On long retreat weekends, when retreat participants leave their cars for the weekend, only one or two staff members will be necessary.
– On large, single-day events, parking staff will ask attendees as they arrive if they would like to participate in T.I.R.E. If so, their car will be tagged with chalk on their tire. They will be asked to leave a note on the dashboard with the ideal air pressure for their car's tires or to leave the door unlocked to let the staff check themselves.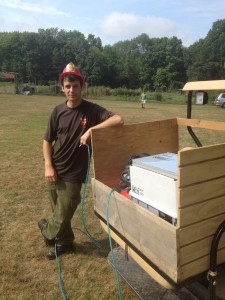 The T.I.R.E. project staff are equipped with a tire pressure gauge, an air compressor, and a mobile solar powered generator. The generator is on wheels and can be easily moved by an individual. Staff will leave a small handout on 100% recycled paper on each windshield, with instructions on how to replicate the T.I.R.E. project in campers' home communities and with information about the Gendler Grapevine Project.
Having implemented the project, Eden Village Camp is able to provide suggestions to help other organizations and camps make this project successful. First, watch the weather! The equipment shouldn't be used if it's raining, as it could be damaged. Second, people are often in a rush. Make sure the families are communicated with ahead of time about the project and how long it will take. That will help result in having more willing participants. Third, at least one extra person, who is assigned specifically to this project, is needed to help make it successful. Drop-off and pick-up days are busy. Parents, campers, and staff are often eager and even a little nervous at these times, so expecting check-in/check-out staff to complete this task (on top of their many already assigned duties) may not be realistic. Organization is key to the success of this project.
For this project, Eden Village Camp chose the following equipment:
1. Wagan Tech Solar ePower Cube 1500
2. Porter Cable 150 PSI, 6 Gal Oil-Free Pancake Compressor
3. Slime 1023-A Pencil Tire Gauge 10-50 PSI (Any pressure gauge will do and can be purchased at a gas station, auto parts, or even Amazon. Eden Village Camp chose this gauge because it is easily available from Amazon Prime, and it is analog [not digital] so it is not using extra energy and more likely to last longer.)