As part of their larger Gendler Grapevine Project initiative, Outdoor Shabbat and Holiday Program, on Sunday, October 16th, JCC Chicago held a community Sukkot program at the Chicago Botanic Gardens (CBG).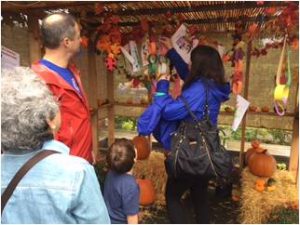 The event was held outside in the CBG's vegetable garden where they built a sukkah that stayed up for the duration of the holiday of Sukkot. Over 400 guests participated by learning about the holiday of Sukkot, making decorations, and hanging them in the sukkah. Children also made reusable placemats that they took home.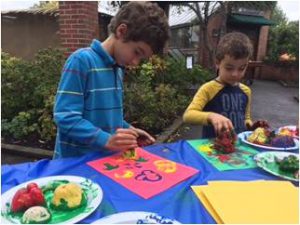 Adults were equally engaged with Jewish value cards from the Jewish Food Experience that focused on ethical eating and sustainable agriculture. Everyone was invited to learn about the lulav and etrog and take their turn shaking it. It was a great outdoor Sukkot event that enabled participants to immerse themselves in the harvest spirit and the Jewish holiday at beautiful location at the Botanic Gardens.